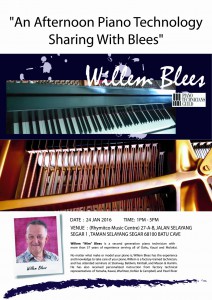 My name is Willem Blees. I am a piano tuner/technician from Hawaii. I've been a piano tuner, technician, and piano shop owner for almost 40 years.I am an active member of the Piano Technicians Guild (www.ptg.org). Members of the PTG come together at chapter meetings, seminars and conventions to discuss techniques, tools, equipment, procedures and repairs. As a member of the PTG, I have taught many classes at seminars and conventions on many of those subjects.
I will be visiting Kuala Lumpur in January for a holiday. I would love to meet piano tuners in the KL area to share our experiences and just talk piano. I could also teach a class on any number of subjects related to piano work.
The date I have in mind is Sunday, 24 January, 1pm-5pm. To have this meeting, however, we need a meeting place, such as a shop. If any of you want to offer a facility, please let me and the rest of this e-mail group know. And if you know of other piano tuners who are not on this e-mail list, please invite them, too.
This meeting will be no cost to you. I'm doing this on my own because I love to talk piano and share my knowledge and experience with anyone who will listen, especially in a faraway place like Malaysia. (At least it's far away from me.)
Please visit my website www.bleespiano.com,for more information about me and the services I offer.
If you are interested in getting together, I look forward to hearing from you.
Willem Blees
Piano Technicians Guild
The official site of the Piano Technicians Guild, the world's premier source of piano service expertise. The Piano Page is a portal to everything about pianos and piano service. Find a Registered Piano Technician, research the history of the piano, and learn about piano care. Find resources for tech…
ptg.org